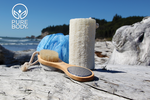 I saw this #30DayThrowAway notice on the packaging of my Pure Body items, what does it mean?
This is meant to offer an easy-to-remember reminder to replace your favorite bath sponge, loofah, back brush, wash gloves, etc., about every 30 days or once a month.
How often should I replace my bath sponge?
Why is this so important? These things can last several months, easily.
While it's true that these items can last much longer, there are some serious hygiene issues to take into consideration. Regardless of the type of sponge you are using, synthetic mesh, loofah, bamboo or other, it is strongly recommended that you replace them often.  Due to high humidity from the warm wet atmosphere in most bathrooms, over time bath and shower sponges can become a breeding ground for bacteria and even mold.  These organisms can then cause skin irritation, rash and even cause mold build up in the home.  The sponges will also collect soap residue and dead skin cell buildup and may become less useful for exfoliation. 
Natural products, such as loofah, have a higher chance of succumbing to bacteria and grime then a synthetic mesh, because man made mesh dries quicker.  However, neither are immune to deterioration and contamination. 
Do You Know What's Growing on Your Loofah?
What can I do to prolong the life of my bath accessories and ensure proper hygiene?
In an effort to prolong the life of your sponge it is recommended that you:
Rinse and wring out your sponge well and hang to dry after each use.

Always wring out any excess water and hang to dry in a non humid area once sanitation is complete.

It is also good practice to sanitize your sponges on a weekly basis. Consider a few options:

Soak for 5 minutes in a combination of water and bleach (1 gallon of water to ¾ cup bleach for synthetic sponges and ¼ cup bleach for natural sponges),
Saturate your sponge with water and microwave it for 1 minute on high heat or place the sponge in the dishwasher or washing machine

Regardless of any sanitation, the best and safest practice will always be replacing your sponges about every 30 days
How to Clean a Loofah or Natural Sponge
Where can I learn more about this?
You can learn more at each of the links posted above. For your convenience, here they are once more:
How often should I replace my bath sponge?
Do You Know What's Growing on Your Loofah?